Inspired by the "battlestations" subreddit, here is my contribution. Some of these photos are from various times, but if they haven't changed, it's because the subject is the same.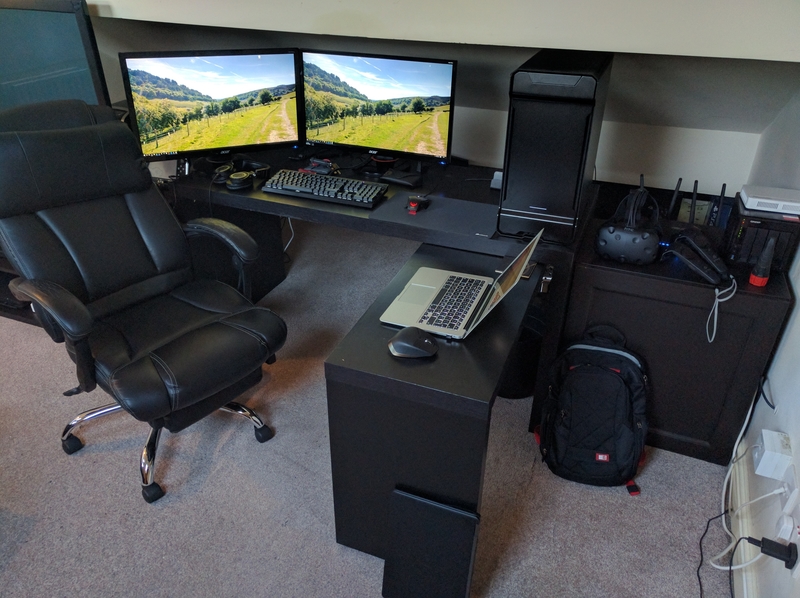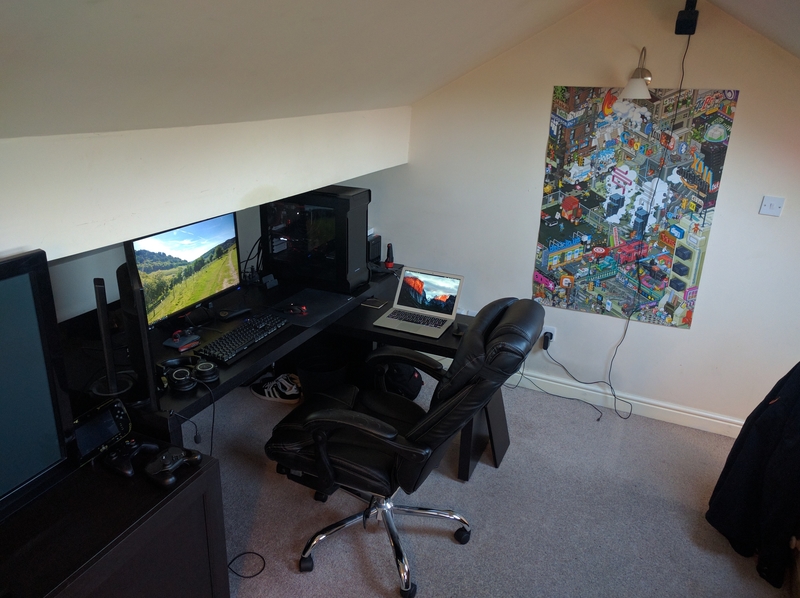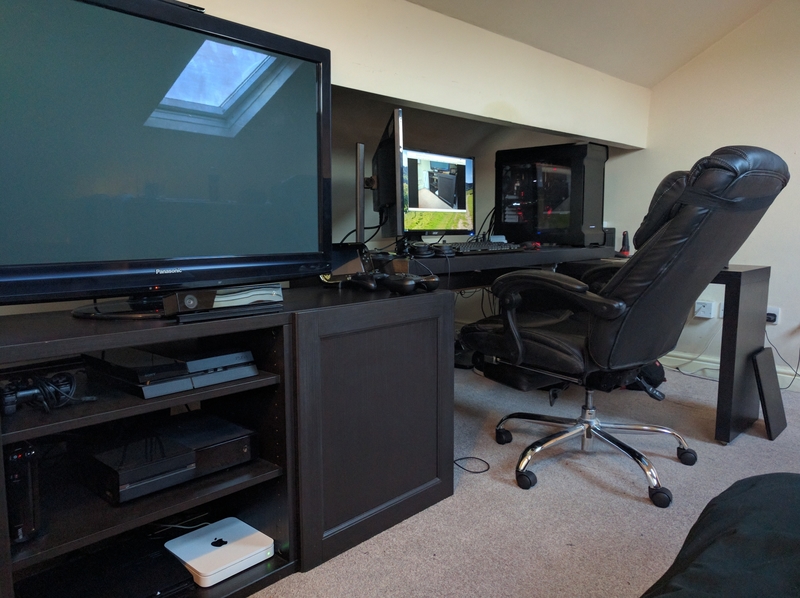 PC Build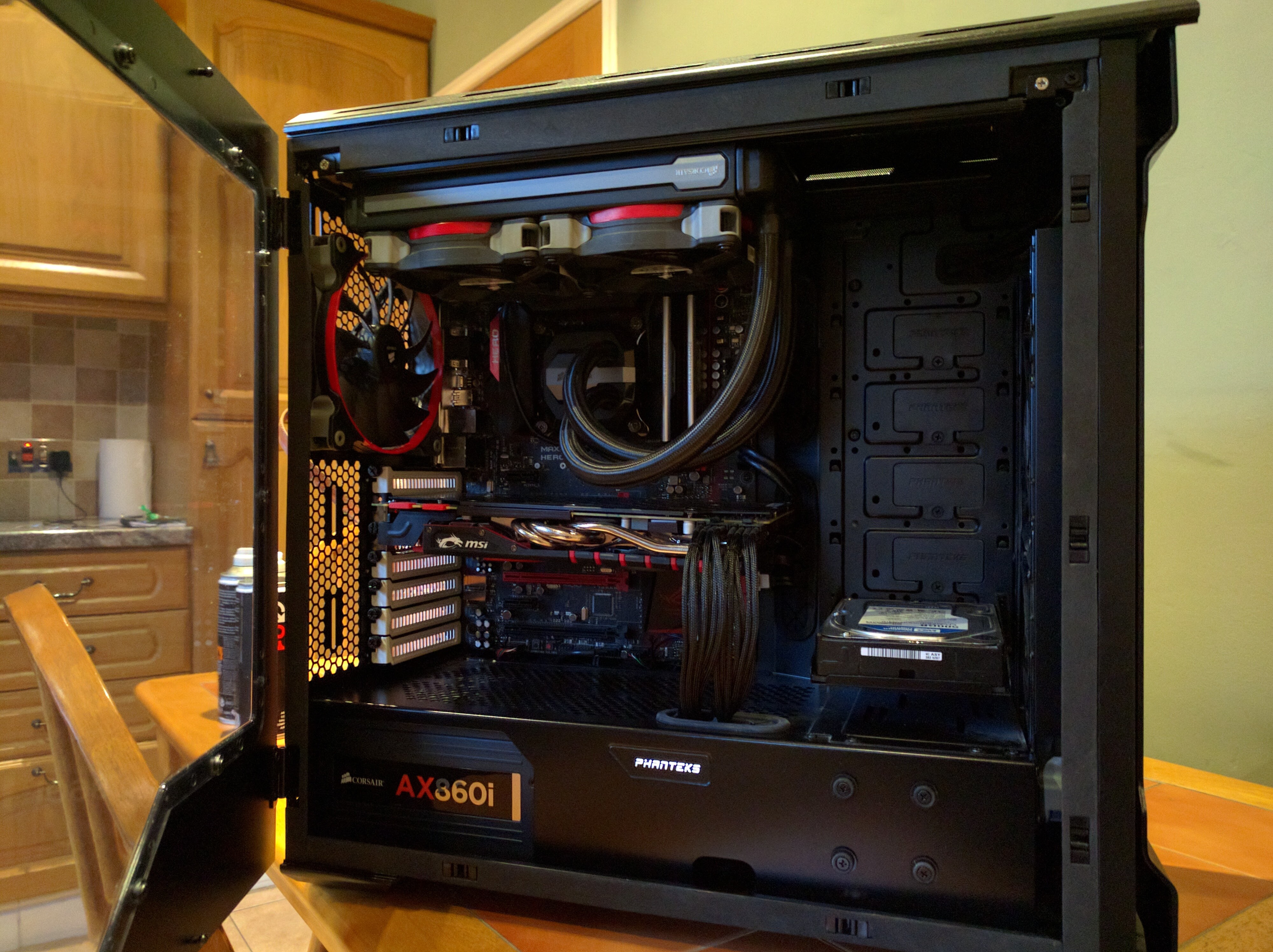 Computers
PC specs
Intel Core i7 4770K @ 4.5GHz (Overclock)
16GB Corsair Vengeance Memory
MSI NVIDIA GTX 980 Ti Gaming OC (6GB)
ASUS Maximus VII Hero motherboard
Samsung 950 Pro NVME 256GB M.2 SSD
Intel 80GB SSD
Intel 240GB SSD
1x 2TB HDD, 1x 3TB HDD 1x 500GB HDD
Peripherals
Phanteks Enthoo Evolv ATX
Corsair H100i GTX CPU cooler
Corsair AX860i modular power supply
Corsair AF and SP fans
Corsair K65 mechanical keyboard (Brown switches)
Corsair M65 RGB mouse Updated - Not pictured
Xbox One controller (wired)
Steam Controller
Also pictured: Logitech MX Master primarily used for work
Audio Technica ATH-M50x + modmic.
Displays
Acer XB270HU 27" 144Hz G-Sync 2560x1440 (IPS)

Acer CB270HU 27" 60Hz 2560x1440 (IPS)

42" Panasonic Plasma (1920x1080) as a secondary display, activated when necessary.
13" Macbook Air 2014
Other
ASUS AC-87U router
QNAS TS-451+ (8GB RAM) - 4x3TB WD Reds
HTC Vive
TV
Consoles
Sony PlayStation 4 500GB
Nintendo WiiU 32GB Deluxe
Microsoft Xbox One
On rotation
Three consoles rotating around various rooms in the house
Xbox 360 'S' 250GB
PlayStation 3 Slim 120GB
PlayStation 3 60GB (Original EU BC model)
Other
Apple Airport Extreme / Time Capsule (2TB)
OnLive console
Chromecast