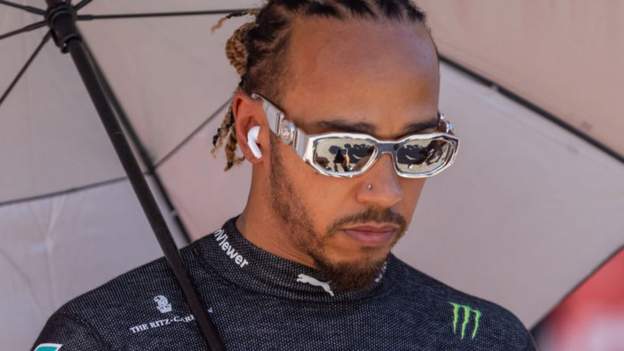 The news of this GP was how close Mercedes and even McLaren were to Red Bull (specifically Lewis Hamilton and Lando Norris to Max Verstappen), with Lewis in the final lap of the race managing - at one point - to get the gap to Max down to just 1.5 seconds before Max gained DRS from a blue flagged back marker.
For this season? That's a noticeable step forward for those chasing the dominant RB19 + Verstappen pairing. We've seen many races this season where Max finishes 20-30 seconds ahead of P2.
Lewis in race pace was the fastest man on the track, without the two slow pit stops and less than optimal strategy, there's a strong chance Lewis could have won this race, making him only the second non-Red Bull driver to win a race this season. Instead he finished P2.
But late last night, we got more news to overshadow the actual race result. Both Lewis Hamilton (Mercedes) and Charles Leclerc's (Ferrari) car had failed the technical inspection, they were two of the four cars randomly inspected. They had failed the 'plank wear' test.

On F1 cars, amidst all the high tech, exotic materials they're built out of, there's a wood / wood composite / fibreglass plank that sits the length of the floor of the car. In that 'wood' plank are metal skid blocks. The purpose of these is to be able to measure how close to the ground the car is being driven, if the skid blocks wear down too much - then you're deemed to have run the car at an illegal height and you're disqualified. This is what happened to Hamilton and Leclerc.
For F1 cars, especially this generation of 'ground effect' cars, the closer you can run to the ground the better - as it creates a better seal between the floor of the car and the ground, increasing the amount of downforce and grip. There is a performance advantage, but there are also safety concerns for running too low. These are the reasons these regulations exist and the deaths of Aryton Senna and Roland Ratzenberger were a key driver.
However, this weekend was one of what is called a 'sprint' weekend, where the teams only have one practice session instead of three in favour of an extra qualifying session and 'sprint race', and the track had been noted by drivers and teams, to be even more bumpy than usual.
So what appears to have happened, is that Mercedes and Ferrari made a mistake. I don't believe either of them attempted to break the rules, this isn't an area we see teams trying to contravene. The last disqualification for this was in 1994, Michael Schumacher's Benetton.

Neither Ferrari or Mercedes have contested this, in large part because it's hard to argue it. This is a very black-and-white regulation, if you wear your skid blocks down by 1mm (from 10mm to 9mm or below), you're out. But there are questions being raised about the testing process in events such as this.
There were four cars randomly selected for testing, 50% of them failed the test, from two different teams.
If a Ferrari and Mercedes both failed, should the other car for that team also be tested, in this case Carlos Sainz and George Russell's car? If they fail too - should they open up testing for at least the impacted part across the rest of the grid?
There's a very valid reason why they don't test every car every race, because there is a gigantic list of tests they have to do and it would simply take way too long and be logistically quite difficult. But in circumstances such as this, should there be processes to try and determine if there is a wider problem, perhaps track specific?

Maybe, but also - as much as 50% of the selected cars failing the test is surprising, especially given it's from two different teams - it's also notable that the other 50% didn't fail. So it was possible to run the car at the adequate ride height and minimise wear on the plank. Even in the best case scenario, you might disqualify many more cars off the back of such a process change, but it's unlikely you would decide not to disqualify any because the problem is too widespread across the grid.
It wouldn't be fair, if other teams managed to not break the regulation, then they should be rewarded for it.
It's interesting, I suspect nothing will change off the back of this and maybe that's right. But overall, an illuminating race - it's encouraging to see Mercedes and McLaren close (or even exceeding in the case of Lewis Hamilton in race pace) to the Red Bull. But we do know Red Bull have ceased development on this years car and are focused on next year. Whereas the other teams are still developing - the gap was always going to narrow - and it doesn't guarantee we won't see a repeat of RB dominance next year, but it does provide some hope.
The next few races could be strong for Mercedes in particular, so maybe that's where we'll maybe get our surprise win from anyone-but-Max.